16.10.2023

Liebes Future-Lab,
danke für dieses tolle Angebot für unsere Schülerinnen und Schüler – wir empfehlen euch gerne weiter.
Herzliche Grüße aus dem Gymnasium in Neustadt

ANJA HEBEL
25.09.2023

Bonsoir Madame Mayer,
mes collègues et moi vous remercions ainsi que vos collègues pour ces belles et riches visites, toujours intéressantes pour nos élèves. Bien cordialement et au plaisir d'une autre visite l'an prochain!

MARIE NÉAULT, COLLÈGE À COLMAR
08.06.2023

Dear Astrid,
Thank you very much for meeting us and for the workshop on cooperative building. Our time in Freiburg has been extremely inspirational and I hope to come again very soon!
Best wishes,

DANIEL FITZPATRICK, UNIVERSITY COLLEGE LONDON, SCHOOL OF PLANNING
30.05.2023

Bonjour,
Je voudrais vous remercier vous et les 2 guides présentes pour leur travail et leur bienveillance. Ce fut un moment vraiment agréable à partager et nous avons tous appris beaucoup de choses sur le quartier Vauban. Je vous remercie encore pour votre disponibilité, votre écoute et votre sérieux.
Cordialement,

MATTHIEU FROGER
04.05.2023

La visite s'est très bien passée! Nous avons eu le beau temps et nos guides étaient très intéressantes. Mes élèves ont tous été très contents de la visite et frappés par le calme, la propreté et l'aspect accueillant et novateur du quartier Vauban. Encore merci pour votre gentillesse. Ce fut un plaisir d'organiser cette sortie avec vous!

LAURE CAZADE, LYCÉE LURCAT, BRUYÈRES
02.03.2023

Bonjour,
encore un très grand merci pour les visites du quartier Rieselfeld, nous avons eu un retour très positif de la part des étudiants.

MARIE-HÉLÈNE BULT, ARCHTECTE, ENSEIGNANTE À LA UCL –
FACULTÉ D'ARCHITECTURE, D'INGÉNIERIE ARCHITECTURALE, D'URBANISME (LOCI)
10.10.2022

Liebe Frau Mayer,
herzlichen Dank für die tolle, informative Führung am Samstag, die unseren Gästen und mir sehr gefallen hat!

SIGRID BUSCH, STÄDTEBAU-INSTITUT UNIVERSITÄT STUTTGART,
LEHRSTUHL INTERNATIONALER STÄDTEBAU
05.09.2022

Herzlichen Dank für Alles. Alle Mitarbeiter haben sich sehr positiv geäussert über die Führung und über Sie!

SUSANNE HORCHER, ARCHITEKTEN HORCHER, LUZERN (CH)
13.12.2019

Nous avons passé une très bonne journée à Fribourg. Monsieur Mehnert nous a bien guidé et donné beaucoup d'explications. Les élèves et les professeurs tiennent à remercier toute l'équipe pour la bonne organisation de la visite de l'écoquartier.
Cordiales salutations,

M. STRIEBIG
18.11.2019

Dank der kompetenten Führung durch Frau Mayer hat die Gruppe einen sehr interessanten Nachmittag verbracht. Die vielen Fragen, die von meinen Kollegen während der Führung gestellt wurden, sind ein Beleg dafür, wie groß das Interesse an dem Thema war.

PROF. DR. HANSJÖRG DREWELLO, STUDIENDEKAN MCM
12.11.2019

Es hat uns sehr viel Spass gemacht mit Herrn Mehnert diese Führung zu machen und von seiner sehr angenehmen und kompetenten Art zu profitieren. Sehr zu empfehlen.

BONA ARCHITECTURE & DESIGN, YVERDON-LES-BAINS (CH)
18.10.2019

Merci beaucoup pour ces belles découvertes. Nos deux guides ont été formidables et très intéressants. Grands et moins grands sont revenus réjouis de cette visite.
Au plaisir,

V. SCHOEN, LYCÉE ST. ANDRÉ
02.07.2019

Hallo Frau Mayer,
vielen Dank für Ihre tolle Führung und den Besuch im Plusenergie-Haus. Es hat uns sehr gut gefallen und wir haben viel gelernt.
Grüße aus Alexandria

RALPH BÜHLER, VIRGINIA TECH, ALEXANDRIA, VA (USA)
04.04.2019

J'ai pu faire un petit bilan avec les élèves et ils étaient très contents de leur journée, en particulier de la visite. Certains élèves ont même rajouté que "pour une fois, c'était intéressant" ... summum du compliment pour un adolescent ...:-)
Ils ont été très sensibles à certaines petites choses, la verdure partout, le four à pain, l'esprit d'ouverture et de partage, l'héliotrope ... et ils ont déjà commencé à réfléchir sur ce qu'ils pouvaient changer dans leur environnement avec des idées très créatives parfois.
Merci donc pour tout et certainement à une prochaine fois!

COLLÈGE CASSIN BAUMES-LES-DAMES
23.06.2018

Hallo Frau Mayer,
gerne möchten wir uns bei Ihnen noch einmal für den schönen Tag bedanken! Uns hat es sehr gut gefallen. Nochmal vielen Dank für Alles!

PATRICK LANGENBERG, PARETO GMBH
29.05.2018

Thanks Astrid,
We very much appreciated your tour around Freiburg.

EMMA RUNG, MINISTRY FOR CULTURE AND DEMOCRACY, SWEDEN
09.05.2018

Bonjour,
Je souhaitais vous remercier pour l'organisation de cette journée pour laquelle j'ai eu de très bons retours de la part des élèves comme des accompagnateurs. Tous les guides ont été appréciés. Merci à toutes l'équipe et bonne continuation.

BLANDINE SCHMITT, COLLÈGE H. FERTET
23.11.2017

Bonjour Madame,
Je tenais encore à vous remercier pour ces visites à Freiburg qui étaient très intéressantes. Les élèves ont vraiment eu du plaisir à découvrir cette ville et nous aussi, évidemment.
Meilleures salutations.

YVAN ROULET
27.10.2017

Liebe Frau Mayer,
nochmals ganz herzlichen Dank für Ihre Führung letzte Woche! Sie war total kurzweilig und hat den Mitgliedern der KODA sehr gut gefallen.
Herzliche Grüße von

MIRJAM HANSELMANN, ERZBISCHÖFLICHE OBERAMTSRÄTIN
13.10.2017

Herzlichen Dank nochmal für den tollen Besuch von Freiburg am Mittwoch. Die Teilnehmer haben danach nur darüber geschwärmt und fanden den Beispielen, die Sie uns gezeigt haben, wirklich sehr inspirierend.

EMILY WRIGHT, ADELPHI BERLIN
01.10.2017

Une visite à Freiburg avec le Freiburg Lab:
"Un très bon moyen pour allier culture, science et langue"
https://www.youtube.com/watch?v=ChrGoi6a7As
20.08.2017

Dear Astrid,
Thank you for having shown us around, we really enjoyed our time together and learnt a lot. We look forward to stay in touch.

DEAN WILLEMSEN, DNW GROUP (AUSTRALIA)
07.06.2017

Dear Astrid,
Thanks for everything you did for us. Everyone seemed happy and you got a lot of praise. I think your valuable guidance and all info you provided were among the most appreciated parts of the visit.
Best wishes,

BO HJÄLMERFJORD, CITY OF VÄXJÖ (SWEDEN)
16.05.2017

Herzlichen Dank für die fantastische Führung!

GYMNASIUM MAINZ-OBERSTADT
15.05.2017

Liebe Frau Zuber,
Die Führungen waren sehr zufriedenstellend: Lehrreich und angenehm!
Vielen Dank und auf ein anderes Mal in Ihrer schönen Stadt!
Mit freundlichen Grüssen,

ELIANE BOUCHE, ROMANS-SUR-ISÈRE
04.04.2017

Liebe Frau Mayer,
ich wollte mich bei Ihnen für die beiden Führungen bedanken, die sehr interessant und anregend waren. Vielen Dank auch für die einwandfreie Organisation.
Viele Grüsse,

JULIA SELGE, LYCÉE ALBERT SCHWEITZER
29.03.2017

Hi Astrid,
We had a fantastic time in Freiburg. Students thought it was a resounding success. Thanks for everything you've done.

C. YAVUZTURK, HARTFORD UNIVERSITY
26.02.2017

Nous tenions à vous remercier encore une fois pour votre présentation de samedi qui nous a vraiment plu et nous a réellement permis d'obtenir des réponses concernant le dossier que nous aurons a rédigé après notre voyage.
Bien cordialement,

MARIE GUITTET, FASSE, RUE D'ASSAS, PARIS
30.01.2017

Dear Astrid Mayer,
Thanks for the tour and interview session for us. We were touched by your sincere preparation and warm welcoming. It was a really great experience for us and it will help us to do our project. I attached photos that we took together.
Sincerely,

YEEUN AHN


24.11.2016

Nos élèves étaient enchantés par ces deux jours à Freiburg et les visites. Les photos qu'ils ont prises montraient de manière intéressante ce qui les a marqués. Ils ont fait par ailleurs remarquer qu'ils avaient beaucoup appris pendant ces deux jours.
Merci encore pour ces visites et à une prochaine fois certainement.
Meilleures salutations,

SABINE STÄUBLE
22.11.2016

Dear Astrid,
It was a pleasure meeting with you last week. Joel and I very much enjoyed our visit with you and learned a great deal. The developments in Vauban, Freiburg, and all of Germany are very important for the world, as a model, a demonstration of what is possible, and as inspiration. Thank you for sharing it with us.
Best wishes,

ANDY, DIRECTOR, SUSTAINABLE SYSTEMS PROGRAMS, EARTH TOOLS, INC.
25.10.2016

Dear Astrid,
Thank you for assisting us with the green city solar & environmental tour at Freiburg. Your expertise and knowledge were a valuable component in our decision-making process for "Municipal Academy Project Turkey".
We appreciate your reponsiveness to our numerous questions. Your explanation of the specifications of all Freiburg green buildings were informative. This information will be beneficial when our design team plans the architectural project.
Sincerely,

ABDULLAH ALTINDAG, DEPUTY PROJECT MANAGER, TÜMAŞ TURKISH ENGINEERING CONSULTING & CONTRACTING CO., TURKEY
24.06.2016

Bonjour Astrid,
Avec un petit mois de retard, mais vraiment en toute sincérité, merci encore beaucoup pour la visite du quartier Vauban, le we du 18 et 19 juin!
Nous sommes rentrés plein d'optimisme :o)
Bonne continuation!

CHRISTINE DUCHAMPS, ARCHITECTE ASSOCIÉE – ATELIER D'ARCHITECTURE
24.06.2016

Liebe Frau Mayer,
vielen Dank für die tolle Führung. Sie hat den Teilnehmern auch sehr gut gefallen, das ergab die Feed-Back Runde.
Viele Grüße

MAX REINHARDT, FRAUNHOFER-INSTITUT FÜR SOLARE ENERGIESYSTEME ISE
16.06.2016

Hello Astrid,
Thank you again for a very pleasant and inspiring visit to Freiburg!
Best regards!

FREDRIK DROTTE, HEAD OF URBAN DEVELOPMENT, UPPLANDS VÄSBY
10.06.2016

Dear Astrid,
A million thanks for the organization of a super interesting day I Freiburg! It was spot on and a lot of interesting conversation was triggered.
Best greetings

FLOIRE DAUB, OSLO / SANDNESS (NORWAY)
01.06.2016

Hi Astrid,
the students loved your walking tour and the opportunity to see the passive houses. It was a highlight of the week as it was two summers ago.

SYD HAVELY, PENNSYLVENIA UNIVERSITY (USA)
17.05.2016

Merci à vous, et merci à Geneviève pour la qualité de la visite.
Très bonne journée

CARINE DEL BELLO, CFA RÉGIONAL AGRICOLE ET HORTICOLE RHÔNE-ALPES (FRANCE)
09.05.2016

Je tenais à vous dire que nos élèves avaient beaucoup apprécié le temps passé avec vous et Wolfgang. En fait, même si tout le séjour s'est bien passé, nos visites à Freiburg sont celles qui ont fait quasiment l'unanimité. Merci pour cette journée, tous mes voeux de succès pour les mois qui viennent. J'espère avoir l'occasion de vous recontacter l'année prochaine!

OLIVIER BERTRAND
31.03.2016

Les visites du quartier Vauban se sont bien passées et ont été appréciées par les deux groupes. Bonnes prestations, merci encore pour votre aide. Nous allons reprogrammer ce type de sortie découverte.

PIERRE DEMANGE, ARCAL (FRANCE)
30.03.2016

Thank you for your contribution for Livable Cities'16! It was truly inspiring and we had some great discussions. Have a nice day!
Regards

STEPHAN C. KRABSEN (THE ASSOCIATION OF SUSTAINABLE CITIES AND BUILDINGS)
24.03.2016

Je vous remercie bien pour votre accueil chalereux et votre présentation scientifique à Freiburg hier, et pour la visite du Bâtiment passif.
Merci aussi à votre collègue Andreas pour son accompagnement et les différentes explications scientifiques aux étudiants.
Bien Cordialement

TALIB DBOUK, INDUSTRIAL ENERGY DEPARTMENT DOUAI (FRANCE)
11.03.2016

Der Blog einer Schülergruppe, die eine Woche in Freiburg verbracht und einige Führungen mit uns gemacht hat:
http://foret-noire-ecologie-et-traditions.blogspot.de


09.03.2016

We were all very happy with the presentation and tour. The students found Vauban concept and ethos fascinating and inspiring.

DAVID KELLY, ROYAL ACADEMY OF ENGINEERING, HERIOT-WATT UNIVERSITY
15.02.2016

Dear Mrs. Mayer,

thank you very much for very interesting guide tour in Vauban and Weingarten.
Quite honestly I had not noticed such interesting areas are existing around Freiburg!
Danke schön & Arigatou gozaimasu!
Now I have found one very nice picture of you at the Booksharing-hut in Weingarten.
Please keep it as a nice memory!
Best regards

SETSUKO SCHWARZER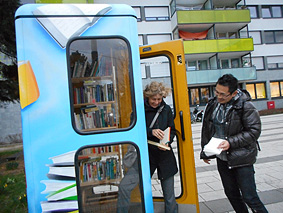 13.10.2015

Nous vous remercions pour le superbe voyage d'étude qui a pu être réalisé grâce à vos interventions.
Les architectes étaient très contents d'avoir découvert vos ambitieux projets. Nous sommes très contente de proposer des interventions d'une grande qualité sur des projets innovants. A travers vos interventions et vos projets nous montrons aux acteurs de la construction et de l'aménagement que le développement durable est possible.
Nous vous remercions pour votre enthousiasme et votre collaboration.

L'ÉQUIPE DE LA SCOP LES 2 RIVES, PARIS (FRANCE)
09.10.2015

Ich möchte mich auch auf diesem Weg nochmals sehr herzlich bei ihnen bedanken für ihre Zeit, die sie uns während unserer Exkursion nach Freiburg gewidmet haben! Von allen Teilnehmer/innen kamen nur äußerst positive Rückmeldungen auf unsere gemeinsame Zeit in Freiburg und speziell auch jene im Rieselfeld. Die vielen interessanten Informationen und Eindrücke müssen zwar erst verdaut und verarbeitet werden, sie werden in irgend einer Form aber sicher auch in unserer Praxis Eingang finden.
Ich wünsche ihnen für ihr weiteres Engagement im und für das Rieselfeld alles Gute!
Mit freundlichen Grüßen aus Tirol

PETER WARBANOFF, VEREIN KOMM!UNITY, GEMEINWESEN & INTEGRATION
30.09.2015

Thank you for the wonderful presentation of your neighborhood! Many thoughts have occurred afterwards.

MATS PERSSON, LUNDS DOMKYRKA (Schweden)
22.09.2015

Die Kollegen waren sehr begeistert von der Stadtteilführung durch das Vauban-Viertel, ebenso wie von der Führung im Passiv-Holzbürogebäude.
Bitte richten Sie Ihren Kollegen unseren Dank aus. Ihnen vielen Dank für die gute Organisation!

INGENIEURBÜRO ROTH + PARTNER GMBH
16.09.2015

Ich bedanke mich ganz herzlich bei Ihnen für die Organisation, alles hat wunderbar geklappt; und für die nette Begleitung von Herrn Mehnert.

REGIONALES GYMNASIUM LAUFEN (SCHWEIZ)
10.09.2015

Je voudrais vous manifester toute notre reconnaissance à l'égard des interventions et des visites que vous nous avez proposées. Le public étudiants-enseigants a beaucoup apprécié.

E. HENRY, UNIVERITÉ DE GRENOBLE (FRANCE)
15.07.2015

Overall, it was an excellent trip. The students learned a lot and had fun at the same time. You can't beat that combination! I really liked that we took public transportation. For most Americans who rely solely on their own car for transportation, it was great to experience a very user friendly public transportation system that is not only environmentally friendly but also so easy to use and efficiently get to places you want to go. That was awesome!

DAVID PINES, HARTFORD UNIVERSITY (USA)
23.06.2015

Vielen Dank für die Organisation, alles war perfekt, Herr Mehnert war sehr kompetent und konnte aufgrund seines beruflichen Hintergrundes sehr gut Auskunft geben. Auch in St.Peter und auf dem "Energiehof" im Schwarzwald war alles bestens.

ELFRIEDE KLINGLER, ENERGIE TIROL (ÖSTERREICH)
15.06.2015

Encore merci pour votre gentillesse et pour ces visites bien adaptées à nos élèves. Nous avons tous beaucoup apprécié, grands et petits, et seront ravis de vous retrouver l'année prochaine.

ANNE DE CASTILLA (FRANCE)
11.05.2015

Thanks for a great tour of Freiburg, I think both we and the student came back very inspired.
Best

JOAKIM ERIKSEN, ARKITEKTER, OSLO (NORWAY)
14.04.2015

Wir bedanken uns noch einmal für Ihre gute Organisation des Besuchs aus Korea. Unsere Delegation war sehr zufrieden.
Mit freundlichen Grüßen aus Frankfurt

ANGELIKA KYSELOVA, TECHNICAL VISITS COORDINATOR GERMANY, FRANKFURT AM MAIN
20.03.2015

Wir möchten uns bei Ihnen ganz herzlich bedanken, dass Sie sich Zeit für einen Besuch unserer Veranstaltung und für Ihren Vortrag über nachhaltiges und umweltfreundliches Wachstum am 6.3.2015 nehmen konnten. Die Umwelt- und Energiepolitik der Stadt Freiburg und Ihre präsentierten Beispiele freiwilliger Bürgerbeteiligung helfen uns hier in Jeju sehr bei der Schaffung eigener umweltpolitischer Richtlinien.

SUNG-JI KOO, PARLAMENTSPRÄSIDENT DER SONDERAUTONOMIEPROVINZ JEJU, JUNG-JUN KIM, AKADEMISCHE GESELLSCHAFT FÜR KOMMUNALE SELBST-VERWALTUNG, JEJU (KOREA)
12.03.2015

Many thanks indeed again for your excellent tour and talk this year. I really am grateful and the students come home enthused and buzzing from their experience.
Best wishes

DR. GILLIAN F. MENZIES, ASSOCIATE PROFESSOR OF ENVIRONMENT AND CLIMATE CHANGE, ROYAL ACADEMY OF ENGINEERING, LONDON (UK)
02.02.2015

Je voulais encore vous remercier pour votre accueil samedi. Nous avons passé un très bon moment en votre compagnie, la découverte a été riche. A nous maintenant d'avoir cet exemple à l'esprit, et de nous en inspirer dans nos différentes actions!
Cordialement

ANNE BEAUREGARD, LUTTERBACH (FRANCE)
10.12.2014

Thank you for your kind hospitality on behalf of our delegations. Our delegations could successfully complete all schedule in Freiburg because of your cooperation and help. Also, I am assured that your professional presentation and advices will be a stepping stone in executing eco-policies in Jeju.
Best regards

IN TAE KANG, MANAGER OF LEGISLATIVE EXAMINATION TEAM, OFFICE OF LEGISLATIVE POLICY, JEJU SPECIAL SELF-GOVERNING PROVINCIAL COUNCIL, JEJU CITY (KOREA)
24.11.2014

Au nom de la Confédération Nationale du Logement, nous tenons à vous remercier pour votre participation à notre colloque "accompagner les consommateurs vers un habitat économe" du 7 novembre dernier. Votre présence et votre intervention ont été très appréciées par l'ensemble des présents.
Bien cordialement

CORINNE RINALDO, SECRÉTAIRE CONFÉDÉRALE, CONFÉDÉRATION NATIONAL DU LOGEMENT, PARIS (FRANCE)
19.9.2014

Je voulais vous remercier encore pour cette journée très intéressante et qui correspondait bien à mon attente. Merci encore pour votre enthousiasme, ces belles images et votre vision claire de l'urbanisme de ces quartiers.
Bien cordialement

ROMAIN RICHARD, IUT (INSTITUT UNIVERSITAIRES DE TECHNOLOGIE), UNIVERSITÉ DE FRANCHE-COMTÉ (UFC), BELFORT (FRANCE)
17.9.2014

I would like to thank you once again for your time, help and knowledge with the Atidim group. They were amazed by how Freiburg works and are very excited to start their new jobs and create great changes.

AILEEN HABIA, IDA (INTERNATIONAL DEVELOPMENT ACCELERATOR), IDATEAM ISRAEL
16.9.2014

Haben Sie vielen, vielen Dank für Ihre super Planung. Alle Unternehmungen, die wir dank Ihrer Hilfe und mit Ihnen haben durchführen können, haben prima geklappt und sind alle sehr gut angekommen.

DIETER PAAS
1.9.2014

Ich möchte Ihnen auf diesem Weg nochmals für die beiden tollen Führungen danken. Wir haben von allen Teilnehmern nur Positives gehört. Bei einer Neuauflage der Summer School kommen wir gerne wieder auf Sie zu.

DOMINIQUE SCHARPING, HOCHSCHULE KARLSRUHE - TECHNIK UND WISSENSCHAFT
12.7.2014

Thank you for your presentation which I shall only share with other colleagues ... Can I also thank you for your time today, we all found your talk and tour extremely informative and helpful. We will return to Guildford with a much better understanding of the way Freiburg has made such significant changes to the lives if its citizens.

CHRIS MANSFIELD, GUILDFORD BOROUGH COUNCIL, GUILDFORD (UK)
10.7.2014

Pour nous la visite était très satisfaisante. Les informations étaient claires et adaptées aux besoins des élèves, le français très compréhensible. Bravo! J'ai également pu demander aux élèves ce matin comment ils avaient trouvé la visite de l'écoquartier avec M. Martin et ils en étaient très contents.
Cordialement

S. EGALON, COLLÈGE EDGAR FAURE, VALDAHON (FRANCE)
8.7.2014

I just wanted to send a quick thank to you for our meeting in Freiburg and for taking us on the tour around Vauban. It was a pleasure meeting you. Our prize winners were excited to learn more about what is going on at the city level. They also appreciated it that you took the time to answer all of their questions.

JESSICA JACOBY, CHINADIALOGUE, LONDON (UK)
12.6.2014

Nous avons trouvé que la journée était très bien rythmée, avec un programme diversifié et des explications captivantes. Tous les participants ont rempli un questionnaire de satisfaction. Nous obtenons une note moyenne de 8,57/10, ce qui est excellent!

FRANÇOIS BOUVARD, CCI VOSGES, ÉPINAL (FRANCE)
25.5.2014

It was a great pleasure to me and my group to meet you in Freiburg, and to listen to your explanations about the city. We mainly impressed by your knowledge and your intellectual integrity to introduce the urban facts and the special processes of the city as they are. We have learned a lot during this short visit, and we are excited to see how Freiburg's models will influence our work here in Israel. Thank you for your time, and your contribution to the success of our visit.

ASHER VATURI / LITAL CARMEL, ILGBC CLUSTER ISRAEL
19.5.2014

Vielen Dank für Ihre Verfügbarkeit und das interessante Programm in Freiburg, das Sie zusammengestellt haben. Die Teilnehmer waren sehr zufrieden und konnten einiges mitnehmen.

HOLGER HAHN, FRANZÖSISCHES GENERALKONSULAT, BONN
27.4.2014

Nous voulons vous remercier tous trois guides pour les trois visites: nous avons apprécié la qualité et la profusion des informations reçues et le choix des lieux à voir!

ESTELLE BESSIN
17.4.2014

Un très grand merci pour votre organisation et accueil la semaine dernière lors de notre visite à Freiburg. Tous les participants ont trouvé l'expérience très enrichissante.
Bien cordialement

ALISON GARNIER-RIVERS, RESPONSABLE DES PROJETS EUROPÉEN, ADEC ASSOCIATION POUR LE DÉVELOPPEMENT DES ENTREPRISES ET DES COMPÉTENCES, LA WALCK (FRANCE)
11.2.2014

Seminar zum Thema Bürgerbeteiligung in Luxemburg

Die "Umweltberodung Lëtzebuerg" (Umweltberatung Luxemburg) hat ein Seminar über Bürgerbeteiligung veranstaltet, und wollte sich auch von Projekten in Freiburg inspirieren lassen.
In Workshops zu den Themen "Urban Gardening" und "Windmühlen für unsere Gemeinde" erkundeten die Teilnehmer dann das kreative Potenzial ihrer eigenen Gemeinden.
Und das war erst der Anfang...




"Herzlichen Dank an Sie für diesen interessanten Tag, der als "Versuchsballon" sehr gut angekommen ist. Die mündlichen Feedbacks waren allesamt sehr positiv."

NILS LECHES, UMWELTBERATUNG LUXEMBURG, LUXEMBURG
27.01.2014

Many thanks indeed for your talks and walking tour on Monday. The students were very interested and it gave a fantastic introduction for the days that followed.

GILL MENZIES, SCHOOL OF THE BUILT ENVIRONMENT, WATT UNIVERSITY, EDINBURGH (UK)
14.12.2013

Bonjour Mme Zuber,
je souhaitais vous remercier pour la qualité de vos services. Les élèves et accompagnateurs étaient ravis de notre tour malgré le temps maussade. Un grand merci à Mme Mayer également!
Cordialement

NICOLAS ORSINI, COLLÈGE VILLON, MULHOUSE (FRANCE)
29.10.2013

Sehr geehrte Frau Mayer,
ich danke Ihnen dafür, dass Sie sich am Freitag, den 25. Oktober 2013, die Zeit für ein Gespräch mit den Teilnehmerinnen und Teilnehmern des 5. International Diplomats Programme genommen haben.
Ihre Präsentation zu der Geschichte und dem Konzept von Freiburg als "Green City" sowie Ihre Führung durch die Richard-Fehrenbach-Gewerbeschule stießen bei den Diplomatinnen und Diplomaten auf großes Interesse. Tief beeindruckt zeigten sie sich von der Tour durch den Stadtteil Vauban, dessen Passivhäuser und verkehrsberuhigte Zonen noch zu angeregten Diskussionen innerhalb der Gruppe führten.
Für Ihre Offenheit, Auskunfts- und Diskussionsfreude danke ich Ihnen sehr.

DR. RÜDIGER REYELS, BOTSCHAFTER A.D.,
INTERNATIONALE DIPLOMATENAUSBILDUNG (1-DA), AUSWÄRTIGES AMT, BERLIN
16.10.2013

Das schwedische Architekturbüro INOBI trägt sich mit einem großen Baugruppen-Projekt und ist nach Freiburg gekommen, um sich informieren und inspirieren zu lassen.

Hier ihr Bericht aus Freiburg:
http://inobi.se/blogg/freiburg-alstadt-vauban-weingarten-och-rieselfeld/
04.10.2013

Un peu tardivement mais très sincèrement, je souhaite vous féliciter et remercier tous les intervenants de notre voyage d'étude chez vous. Tout était conforme à nos attentes. Les participants étaient ravis.

BÉATRICE AUXENT, CAUE NORD (CONSEIL D'ARCHITECTURE, D'URBANISME ET D'ENVIRONNEMENT DU NORD), LILLE (FRANCE)
01.10.2013

Grand merci Geneviève,
Vous avoir comme guide a été pour nous tous un privilège!
À très bientôt,

BERNARD DEPREZ, ARCHITECTURES ÉCOLOGIES DURABILITÉ, ULB, FACULTÉ D'ARCHITECTURE, LA CAMBRE HORTA, BRUXELLES (BELGIQUE)
30.08.2013

Endlich komme ich dazu, mich bei Ihnen nochmals für die tolle Stadtführung zu bedanken. Die Studenten und ich haben viel gelernt und haben die Tour sehr genossen.

RALPH BUEHLER, PHD, ASSOCIATE PROFESSOR IN URBAN AFFAIRS AND PLANNING, SCHOOL OF PUBLIC AND INTERNATIONAL AFFAIRS, VIRGINIA TECH, ALEXANDRIA, VA (USA)


12.07.2013




Dear Ms. Mayer,
I am highly obliged to you for carefully arranging a lecture and a tour about transportation and environmental policies of Freiburg city. Thanks to your effort, my visit to your city became so beneficial.
I am determined to further enhance the global warming countermeasures by asking the cooperation of the enterprises and citizens who possess the pride of the birthplace of Kyoto Protocol and the sense of responsibility, while making positive use of what I have learned from the advanced measures your city has undertaken.
Sincerely yours



DAISAKU KADOKAWA, MAYOR OF KYOTO (JAPAN)
01.07.2013

Gauck im Vauban - Freiburg Future Lab ist dabei... (Foto / Badische Zeitung)
20.06.2013

De retour à l'Ile de la Réunion, nous vous remercions très sincèrement pour votre accueil à Fribourg et la qualité de la visite commentée des quartiers Vauban et Rieselfeld. Je crois que nous avons tous partagé un moment de découverte et d'immersion dans lieu qui incarne une autre façon de vivre la ville ... Les échanges ont été libres et fructueux et nous revenons tous très enthousiastes. Merci encore pour le temps que vous nous avez consacré et votre accueil chaleureux.

AUDE QUID'BEUF, OPÉRATION COEUR DE VILLE - DÉPLACEMENT, LA POSSESSION
(LA RÉUNION)
21.05.2013

Madame Mayer, Je me joins à mon collègue pour vous féliciter de la qualité pédagogique de votre visite. Tenez nous informé SVP de la publication de votre livre...

MARC ZISCHKA, ECOLOGIK BUSINESS (FRANCE)
30.04.2013


08.03.2013

Thank you very much indeed for your excellent talk on Monday this week. We are home in wet and cold Edinburgh again now, but the students are still talking about Vauban and the things we saw and experienced. Your talk and tour was a definite highlight of our study trip to Freiburg. We hope to make the Freiburg tour an annual event, so perhaps we shall meet again next year?

DR. GILLIAN F. MENZIES, INSTITUTE FOR BUILDING AND URBAN DESIGN, SCHOOL OF THE BUILT ENVIRONMENT, HERIOT WATT UNIVERSITY, EDINBURGH (UK)
07.02.2013

Je vous remercie encore de votre travail sur place, on ne fait que des grands compliments de votre visite et je transmet vos coordonnées à beaucoup de monde!

JÉRÔME PLAINDOUX, DOM-EXPERT (DIAGNOSTIC AMIANTE/DPE/LOI CARREZ/PLOMB/
ELECTRICITE/GAZ), ANNECY (FRANCE)
07.02.2013

J'aimerais encore vous remercier pour la visite de Freiburg les 30 et 31 janvier. Les élèves ont beaucoup appris et beaucoup apprécié les visites et les explications données par des spécialistes des questions traitées. Cette expérience a été très enrichissante pour tout le monde.

SABINE STÄUBLE
24.01.2013

Thank you very much for the wonderful Freiburg City guide of January 14th. I was very glad to seeing you and very pleased giving your presentation. We are interested in learning your country history and buildings, particularly Imported "Environmental policy made with a town" is very important. We are delighted to have opportunity to introduce your country's Environmental policy made with a town to IHIO (Imported House Industries Organization) member's company.

MICHIAKI HASHIMOTO, DEPUTY SECRETARIES GENERAL, IMPORTED HOUSE INDUSTRIES ORGANIZATION, TOKYO (JAPAN)
06.12.2012

Bonjour,
je tenais à vous remercier au nom de nos apprentis et aussi de mes collègues pour les visites très intéressantes que nous avons suivies hier. En effet cette journée nous a permis de nous rendre compte des progrès que nous pouvons faire pour préserver notre belle planète.
Merci en particulier à messieurs Hartwig et Mehnert.
Cordialement

SOPHIE RISCH, CFA SÉLESTAT
24.09.2012

Je suis très bien arrivé au Sénegal, certes fatigué mais content cas même après une semaine intense en Allemagne. Vous ne pouvez pas imaginer les impressions que ce voyage nous a laissé, tellement nous avons vu et entendu des choses. Merci à toute l'équipe. Mention très très spéciale à Jurgen, le lion de la forêt noire. Merci et à bientôt!

DR. MBODJI BOUBACAR, MINISTÈRE DE L'ÉNERGIE ET DES MINES, DAKAR (SÉNEGAL)
12.09.2012

On behalf of the delegation of Committee for Regional Development for Sør-Trøndelag County Authority, we would like thank you for your great contribution to our visit to Freiburg on September 6-7. We have long heard about Freiburg the Green City, and it was nice to be there and learn about the relevant practices in person. It was truly inspiring. Your knowledge and enthusiasm made our visit both informative and pleasant. Please bring our warm regards to your partners in Rieselfeld and Passive High Rise.

RANDI REESE / CHIN-YU LEE, SØR-TRØNDELAG FLYKESKOMMUNE, REGIONAL UTVIKLING - NÆRING OG INNOVASJON, TRONDHEIM (NORWAY)
02.07.2012

I want to take a moment to thank you personally for touring my class of engineering students through the Vauban neighborhood in June. It was a cool and rainy day and you were having a little trouble with your voice but you gave a great presentation. My students enjoyed the tour, your insight, and the reasoning behind the success of the Vauban neighborhood. You provided us with so many on-site examples of how to make passive design work as well as how not to make it work. It was very eye opening for my students.

BILLY H. WOOD, COCKRELL SCHOOL OF ENGINEERING, THE UNIVERSITY OF TEXAS (USA)
12.04.2012

...Wir, d.h. die Schülergruppe aus Stockholm, möchten uns für die vortreffliche Führung durch das Viertel Vauban herzlich bedanken! Wenn Sie bitte unseren innigen Dank an Herrn Mehnert weitervermitteln könnten, wären wir Ihnen sehr dankbar. Seine Führung war beispielhaft pädagogisch, leicht verständlich – trotz des schwierigen Themas, freundlich im Ton den Schülern gegenüber. Seine tiefe Verbundenheit mit der Umwelt, und die Achtsamkeit, die er der nächsten Generation weitergeben will, war einleuchtend. Nochmals schönen Dank für diese nützliche Führung durchs Viertel Vauban!

CSILLA LAVOTHA (BEGLEITERIN DER GRUPPE)
14.03.2012

...Ihre informative und engagierte Führung unter dem Motto "Freiburger Umwelt- und Solarhighlights" hat uns sehr eindrucksvoll vor Augen geführt, worin der Ruf Freiburgs als Solar- und Umwelthauptstadt Deutschlands begründet liegt... In aller Namen darf ich sagen, dass wir von diesem Treffen profitieren und viel Anregungen für die energiepolitische Diskussion mitnehmen konnten.

HANS PETER SCHIFF, BOTSCHAFTER A.D. / PROGRAMMDIREKTOR, AKADEMIE AUSWÄRTIGER DIENST, INTERNATIONALE DIPLOMATENAUSBILDUNG (1-DA), DIPLOMATENKOLLEG